10 Common Help Desk Problems and Solutions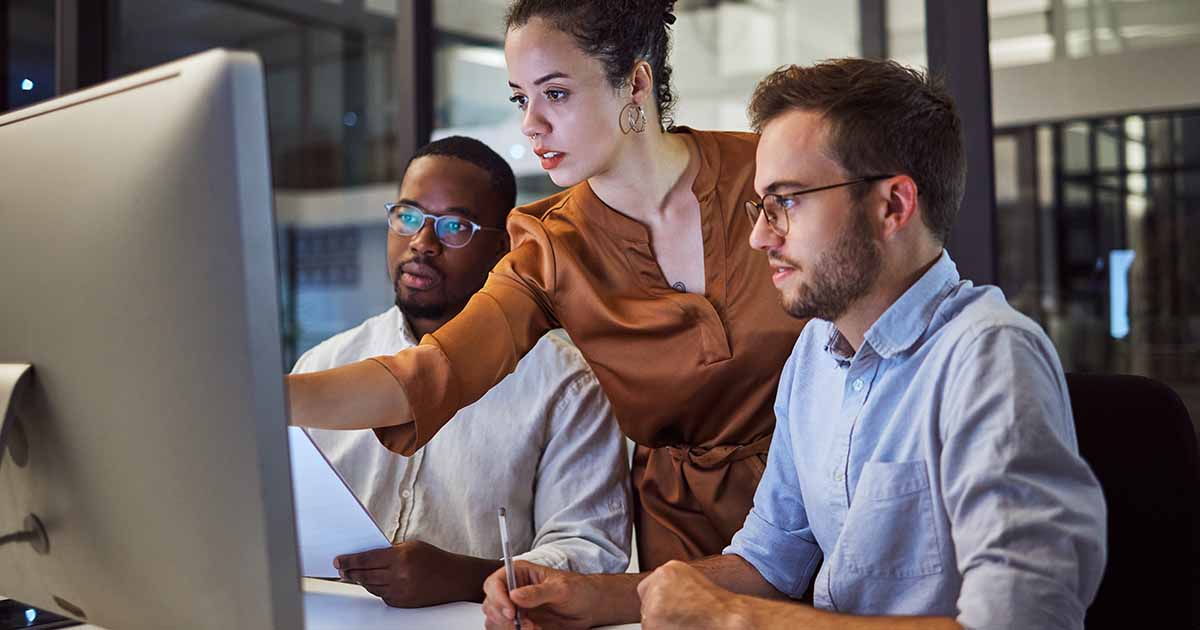 Historically, the retail IT help desk could really have been called the point of sale help desk because that was the only mission critical technology in most stores. But now help desks must be ready to solve all sorts of problems as merchants deploy an ever-increasing amount of new in-store technology designed to create a richer, more entertaining, and effective in-store experience.
These days, POS-related calls make up less than 30% of calls to stores' IT help desks. In addition, as in-store technology has become more robust, traditional help desk models that merchants have relied on in the past such as software provider, call center, or offshore outsourcing services have become less effective.
With a high priority on getting new solutions installed and working, many merchants are discovering their help desk plan is out of sync with all the new demands. Based on our experience, here are some common help desk problems and solutions:
1. More Complex and Diverse Help Desk Calls
The greater amount of technology in stores has led to more complex and varied help desk calls, which can lead to longer hold times and a negative experience for store associates.
When stores house a wide range of equipment, it complicates serviceability and as a result, costs more money. Devices tend to be down longer, and it's harder to collect data on incident patterns. But creating a complex network of first-line support for each type of equipment is not the answer. Whether you outsource your help desk or operate it in house, Level 10 recommends consolidating all Level 1 calls to a single help desk with a broad range of technical expertise. Technical knowledge across a wide range of devices and software is key to identifying and implementing the correct solutions for your Level 1 incidents efficiently.
2. Increased Call Volumes
Alongside more complex calls, IT help desks are challenged with an ever-increasing amount of calls. This influx of calls can be hard to manage without thorough quality controls and wide-ranging technical expertise. Along with increased call volumes, merchants are reporting longer hold and resolution times, and therefore lower employee and store associate satisfaction.
Store associate dissatisfaction is exacerbated by a trend identified by multiple merchants – newer generations of store employees have a low tolerance for technology that doesn't work as expected and less patience for troubleshooting. When there is an issue with technology, lower patience for troubleshooting, and the IT help desk takes too long to find a solution, the Level 1 help desk experience is not ideal.
When stores' help desk solutions reach this point, it's time to consider additional support and a streamlined IT help desk plan. Whether you decide to fully outsource or supplement your existing help desk on a project basis, nights/weekends, or a mix, bringing in more skilled technical resources will go a long way toward unburdening your busy IT managers.
3. IT Help Desk Resolution Times Are Too Long
Troubleshooting has become more complex, requires more escalations, and the time between hand-offs increases resolution times. It's all about implementing the right help desk design for today's complex store needs. When your Level 1 support is broadly skilled and backed by great analytics, and your Level 2 resources are in place to address more in-depth issues, you're better prepared for quick, efficient problem resolution.
You can shorten response times even more by choosing a skilled solution provider like Level 10. If your help desk is technically oriented, you can increase your Level 1 closure rate. Our IT help desk is staffed with technically oriented, hands-on analysts with low turnover who enjoy solving problems. They have the experience to deliver a quick, live answer, achieving first call resolution more than 80% of the time. We don't place stores on long holds or take hours or days to respond.
4. Lack of Technical Experts for Increasing Technologies
As we've noted, more equipment often means more complex diagnoses are required. Help desk is an experience-based job and lack of expertise makes it challenging to resolve more in-depth issues. Without the technical know-how to support Level 2 issues, those cases end up escalated back to management leading to longer resolution times and taking up IT managers' precious time.
Even with the variety of equipment, a well-qualified Level 1 help desk should be able to address 80% of issues. Turning to a solution provider like Level 10 is a cost-effective way to do this, to gain instant access to a deep well of expertise with a low rate of staff turnover. For more complex help requests, establish specialist experts at Level 2 to handle escalations that require depth of expertise in a particular solution or integration.
5. Repetitive Calls and Resolutions
Many merchants report their help desks spend the bulk of their time resolving repetitive Level 1 issues, such as password issues or card reader errors. A common outcome of multiple, scattershot help desks is lack of visibility into those patterns in service calls. As a result, no one recognizes that a solution has already been found for the issue, so new technicians recreate the same work.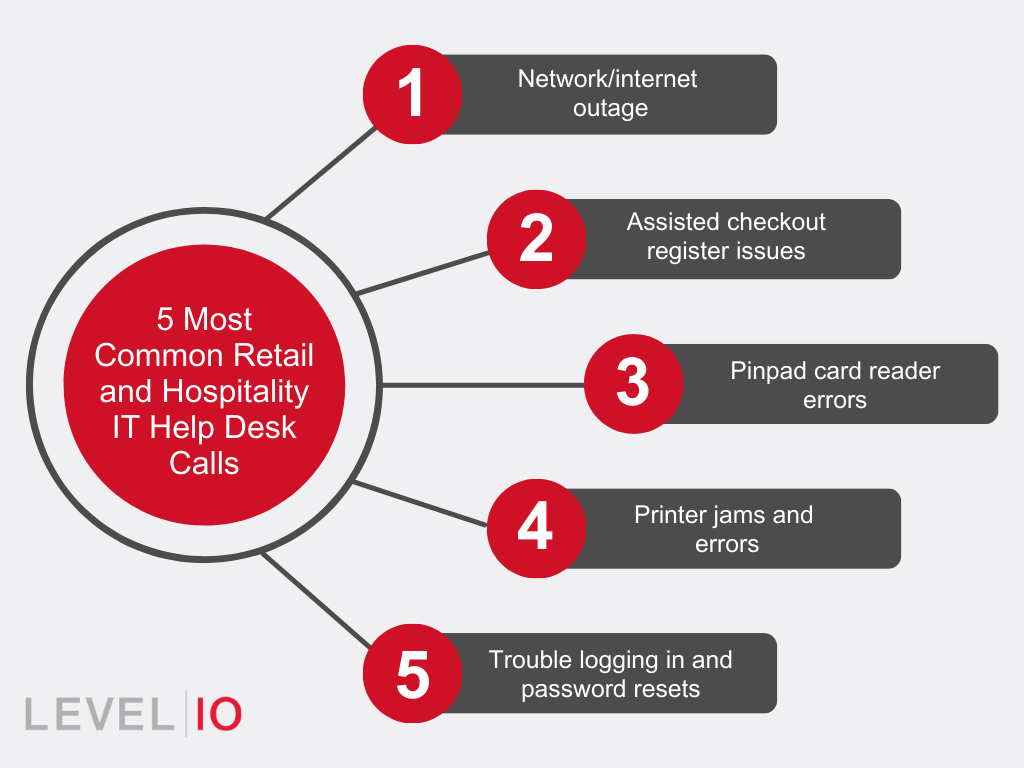 Consolidating to a single help desk means you're also centralizing your data collection, discovering if you have stores with exceptionally high numbers or reports, devices that are failing more than the others, and so on. You can also track resolutions to ensure that a remedy works consistently, automate solutions where you can, and provide training to make the resolution to all Level 1 technicians. By constantly analyzing data and continuously improving processes, you reduce calls, increase productivity and uptime, and truly solve your most common Level 1 incidents.
6. Store Staff Spends Too Much Time on Tech Support
With more devices in stores, many merchants report their store managers are getting too caught up in troubleshooting technology and working towards solutions to get their lanes up and running smoothly.
Consolidating your support to one provider with a deep well of technical know-how means you can provide a single phone number to stores and trust the help desk will efficiently provide a solution. Aggregating all help desk calls to a single source enables you to route those calls more effectively and provide better service to the store at a lower cost.
7. Too Many Vendors Providing Support
A disparate network of vendors and avenues for escalations adds complexity and delay. A single source for IT help desk service with a breadth of expertise is the most effective way to streamline processes, speed up solutions, and lower costs.
Further, a centralized source for your help desk allows all your data, trends, and reporting to be more easily accessed and analyzed. A technically oriented help desk can help you focus on the right data points, such as average calls per store, resolution time, and abandon rate to ensure your help desk is effective. The more vendors and points of escalation you have, the harder it is to get at that data, improve the results of your help desk, and enhance your store associates' experience.
8. IT Help Desk Resolutions are Reactive Rather than Proactive
When your IT help desk is already overwhelmed, it can be difficult to pursue proactive solutions rather than solving issues on a case-by-case basis to stay afloat.
By partnering with a help desk service provider with the necessary highly-skilled technical expertise and reporting capabilities, you will be able to identify trends and take a more proactive approach to your resolutions. Analytics also help spot needs for additional training, as well as maintenance needs. When you use the same provider for both help desk and maintenance, they can apply analytics insights to head off issues in the field.
This will ultimately reduce the amount of time your store associates spend on the phone with the help desk and improve lane uptime.
9. Too Much Time Spent on Warranty Management
Warranties impact the help desk less than you might expect. If a product fails, the help desk will get the call, regardless of who is ultimately responsible for paying for the repair. But managing those terms, expiration dates and claims on the back end is getting more difficult as the number of devices and manufacturers proliferates. It often pays to turn that over to solution provider such as Level 10, especially when that provider is also handling your maintenance services.
To take this one step further, many OEMs require their own troubleshooting before honoring a warranty. By partnering with a solution provider who interfaces with the OEMs on your behalf, you can bypass that extra call to the OEM, saving time for your associates and reaching a solution sooner.
10. High Staff Turnover
The Level 1 help desk position is unfortunately typically a very fast-turning position. Whether your Level 1 help desk is in-house or outsourced, we're sure you know that means it can be difficult to either give or receive high quality customer service.
High staff turnover among your help desk makes it difficult to maintain training and experience, and further impacts gaps in coverage, hold times, and resolution times. Training issues often lead to the inability to handle difficult calls, and a lower help desk quality likely often results in more escalations for your IT managers to manage.
The Level 10 help desk team is U.S.-based and consists of team members with a wealth of industry and technical knowledge who are available to provide support around the clock. We are proud to say that our help desk experiences low turnover and consists of a highly knowledgeable team that is excited to help you solve your most common help desk problems.
Store technology is only getting more diverse, complex, and inter-dependent. Many merchants recognize they can't maintain expertise on such a broad array of devices. Relying on third parties is inevitable, so it's important to streamline your help desk and choose a partner with a wide range of technical expertise and a hands-on, proactive approach to the IT help desk rather than just handling cases.
Customers who use the Level 10 IT help desk experience faster answer times, low abandon rates, high first-time resolution (80%), and reasonable handle times, ultimately reducing lane downtime and ensuring customer and employee satisfaction.
To learn more about how the Level 10 IT help desk can solve your most common help desk problems, contact us today.